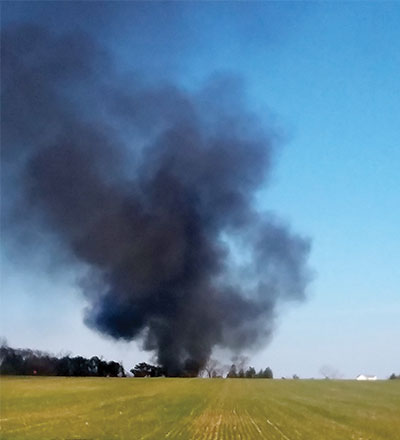 by Tom Chillemi – 
A Virginia State Police (VSP) news release said Monday that the state medical examiner's office had yet to announce positive identification of the pilot who died in a Nov. 24 Deltaville plane crash.
However, multiple social media sources and those who knew Carl M. Smith of White Stone have said he was the pilot who perished in the crash of a single engine plane that Flightaware.com reports he owned, a 1966 Beechcraft V35 Bonanza.
Smith led the recent effort to stop erection of power line towers across the Rappahannock River. A post on the Facebook page "notowers.org" states: "It is with heavy hearts that we report the death of Carl Smith. Carl died when his aircraft crashed in Deltaville. He was a founder of the Save the Rappahannock Coalition. He led it from inception to the successful effort to persuade the State Corporation Commission (SCC) to reject Dominion Power's plan  to place new, taller towers next to the Norris Bridge from Topping to White Stone. The commission ruled that, instead, Dominion should place the lines under the riverbed."
Church service
 The website for Light of Christ Church in Heathsville states that a memorial service for Carl Smith has been planned for noon Wednesday, Dec. 9, at the church. The service is set to be presented on a live stream due to COVID-19.
"It is with regret that the service will be limited to immediate family only. This is necessary due to COVID-19 restrictions based on the size of the church building," the church website states.
Flight data
Flightaware.com tracked the flight of the plane that crashed in Deltaville, indicating it departing from Hummel Field in Topping at 9:06 a.m. on Tuesday, Nov. 24, flew north over Lancaster County, then east to the middle of Chesapeake Bay, where it turned south and flew down the middle of the bay before turning west and heading over Deltaville following the Rappahannock River. The 62-mile flight had a duration of 22 minutes. The flight log states it was last detected in the air at 9:28 a.m.
"State police are able to verify that there was only one occupant in the plane, the pilot," reported Sgt. Michelle Anaya, public information officer with the Virginia State Police.
A 911 call to the Middlesex County Sheriff's Office dispatcher reported the crash at 9:31 a.m. on Nov. 24. 
Authorities continue to investigate…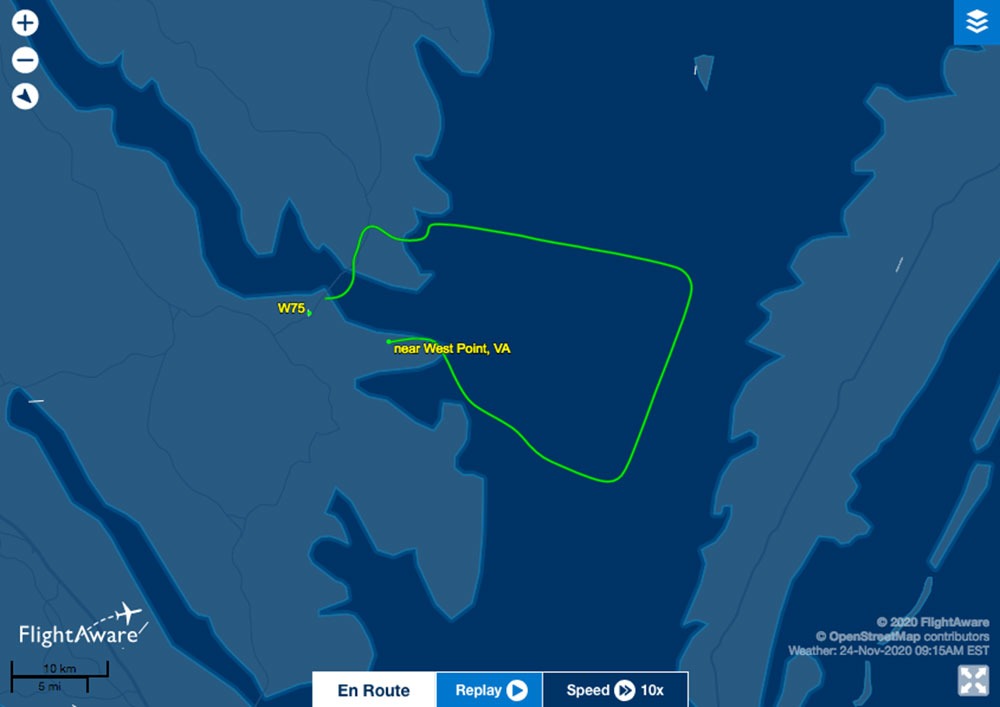 There's more to this story…
Many more news articles, photos and ads are available only to those who subscribe to our printed newspaper or our online e-Edition. Here's how to get full access!
Subscribe to our printed version
Or buy the printed version at newsstands
For assistance, call 804-758-2328.